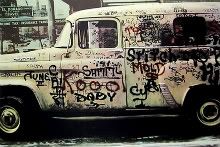 The
Faith of Graffiti
documents the early graffiti art of New York City. First published in 1974, the book includes full color photographs by Jon Naar and Mervyn Kurlanksy with an introduction by Pulitzer Prize and National Book Award winning writer Norman Mailer. Mailer's essay covers the origins of the movement and discusses graffiti as pure art, comparing it to celebrated works in the MoMA and the Met.
Kurlansky and Naar's photographs, shot in twelve days throughout the city's boroughs, depict both the birth of an art form, and the decay of 1970s New York. The pieces in
Faith of Graffiti
are mainly name tags and early developments of the more elaborate letting styles found in the 1984 book
Subway Art
by Martha Cooper and Henry Chalfant. Both titles trace the progression of early street art and serve as essential documentation of work long cleaned off or painted over.
The Faith of Graffiti
by Jon Naar, Mervyn Kurlanksy, and Norman Mailer
GT3913.N72 N44 1974
Subway Art
by Martha Cooper and Henry Chalfant
GT3913.N72 N43 1984
Sources
"Off the Wall" by Hua Hsu on
bookforum.com
. Image from
flavorwire.com
(blog entry by Sara O'Sha)