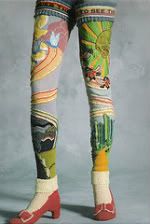 Art to Wear
by Julie Schafler Dale showcases wearable fiber arts made in the '70s and '80s. Dale began researching wearable art in the early '70s leading to her opening a
gallery
dedicated to the medium in NYC in 1973.
The works presented in this book are highly personal, exceptionally crafted, and represent a variety of methods including crochet, knitting, leatherwork, and mixed media. Some standouts include the knitted pieces by Susanna Lewis like the
Oz Socks
shown above, and the hats and coats with three-dimensional landscapes by Joan Steiner.
This beautifully photographed book is a must peruse for anyone interested in fashion, textiles, and dress as a form of personal expression.
Art to Wear
by Julie Schafler Dale
Cross River Press, 1986
NK4860.5.U6 D34 1986 Special Collections
(blog entry by Sara O'Sha)