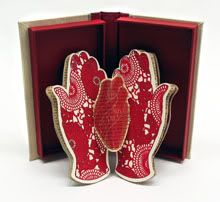 Part of the Herron Library's artists' book collection, Damara Kaminecki's
Hand Book
combines collage and illustration in a hand-shaped book. The artist said about the work:
"The Hand book is a way for people to interact with art as an object. The book's hands mimics the viewers own hands as it lies in their palms. The images are a non-verbal poem relating to touch and how it can be received internally and externally."
A Chicago native, Kaminecki works mostly in illustration and collage under the name Damarak the Destroyer. For examples visit
www.damarakthedestroyer.com
.
Hand Book
is now on display in our artists' book alcove.
Hand Book
by Damara Kaminecki
Herron Library - Artists' Books
N7433.4.K355 H36 2005
Sources:
Image by Herron Library, book by Damara Kaminecki
The artist's website
www.damarakthedestroyer.com
(blog entry by Sara O'Sha)