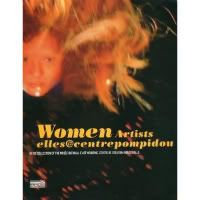 In 2009 France's national museum of modern art, the Centre Pompidou, devoted the entire permanent collection to the work of women artists. Like the exhibition, the
elles@centrepompidou
catalog is arranged thematically with key female artists like Frida Kahlo, Sonia Delaunay, and Dorothea Tanning alongside major contemporary creators. More than 500 works by 200 artists are brought together under the themes Pioneer, Free Fire, Body Slogan, The Activist Body, A Room of One's Own, Wordworks, and Immaterials.
In addition to more than 300 pages of color images,
elles@centrepompidou
includes quotes from the artists and essays reflecting on gender and art. This book is an excellent collection of the multifaceted and diverse work by women that have, and continue to, create art history.
elles@centrepompidou: women artists in the collection of the Musée national d'art moderne, Centre de création industrielle
Centre Pompidou, 2009
N8354 .M8713 2009
(blog entry by Sara O'Sha)