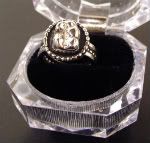 Tooth Ring
, by Genesis Breyer P-Orridge, is part of Herron Art Library's artists' book collection, and is currently on display in the arists' book alcove. The silver ring is part of an edition of 23, and features a cast of the artist's left molar.
P-Orridge is best known for founding early industrial bands Throbbing Gristle and Psychic TV and his "Pandrogeny" project where he and his late wife, Lady Jaye Breyer P-Orridge, attempted to merge their identities through cosmetic surgery, hormone therapy and behavior modification. The artist also creates work heavily influenced by Dadaist collage, with examples in
30 Years of Being Cut Up
, also part of the Herron artists' book collection.
Tooth Ring
N7433.4.P677 T6684 2010 Artists' Books
30 Years of Being Cut Up
N7433.4.P677 A123 2009 Artists' Books

image from WesternXeditions
Sources: The artist's website, genesisbreyerporridge.com and "Genesis Breyer P-Orridge and Daniel Albrigo: Putting Your Money Where Your Mouth Is... A LOVE STORY," on artlog.com
(blog entry by Sara O'Sha)