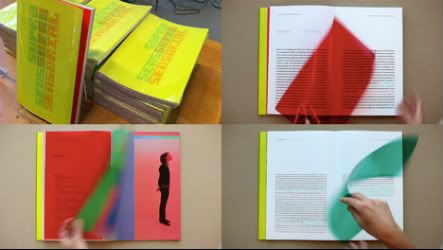 Suprasensorial: Experiments in Light, Color
was published in conjunction with the MOCA exhibition showcasing the work of Latin American Artists Carlos Cruz-Diez, Lucio Fontana, Julio Le Parc, Hélio Oiticica and Neville D'Almeida, and Jesús Rafael Soto. Like the exhibition, the catalog is participatory in nature and includes translucent red and green acetate sheets which are required to read the essays. Using the overlays, the book's text is revealed in Spanish or English.
Watch a video of how it works on
MOCA's blog
or stop by the Herron Library to experience this unique read.
Suprasensorial : Experiments in Light, Color, and Space
Organized by Alma Ruiz
Special Collections N6494.L54 R85 2011
image from graphis.com
(blog entry by Sara O'Sha)